___
Mary on the Rock
Mary praying at Meditation Rock in Fredericksburg, Virginia, 1789.
This is the sketch that I am working on a final painting in oils. I love to work somewhat large--3 feet by 2 feet to allow the viewer to walk up to the painting and walk into the scene and experience what I have been inspiried by God's Spirit to show. While the Work that I do is a representation of someone's life, my hands are not worthy to call it my work. I sign my credit to Jesus, because he is the Creator of my life and all I know.
I do some image testing at each stage of a sketch. History professionals, family and mostly women view the art and give me thier opinions and insight on what is positive and...yes negative input.
While I like to sell all my work, some I like to keep, the love of the story of the Divine, this is one of those paintings I would love to keep. The prints will be the method I will pay for the pursuit of my love of painting.

More sketches below...
(+) New Work Collection
......................................................
(+) George Rogers Clark

(+) Drummer Boy of the Rappahannock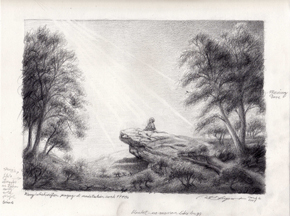 This Sketch is the same as above, but earlier, no mist and distance shading. I have walked through the morning mist many times in our field, it is thick air and silences all sounds, the sun's warmth envelops you in a way the Spirit of the Creator falls on everyone.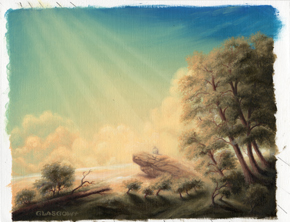 Graphite sketches are the basis of my work to date, and are present under all my paintings in oil. The color covers all the graphite as i work. While this early sketch satisfied my vision of Mary praying, i knew after some days later, i had to do more work to bring the painting to life. The spirit of the painting is divine in nature, something we don't have words for, the intersection of Heaven and Earth.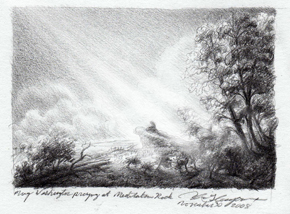 This is one the first sketches I did of the rock with Mary praying being bathed in sunrays. The story of Mary praying on this rock was known for hundreds of years, yet there were no paintings of this daily event in her life. I consider myself honored to show the true legacy of a small country woman who made a difference in her life through constant prayer for her son, family.
While I had a mental, visual image of Mary praying here on Meditation Rock-- hundreds of years before, I needed a sense of the place of where she met God with her worship, conversation and needs. The rock has a great split down the middle, she probably sat to the right (where Jesus would have sat). This place is powerful when all is quiet, this is a true spiritual experience.